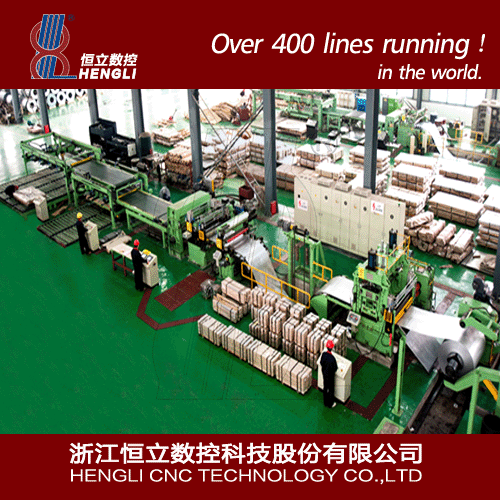 | | |
| --- | --- |
| Categories | Flying Shearing Line |
| Brand | Hengli, SUMIKURA |
| Model | HJL650-20R—HJL1650-30R series |
| Update Time | September 24,2023 |
The Equipment can be used in steel mill, sheet steel dealer, steel sheet distribution center, etc. producing the sheets which are the main material for automobile frames and cases of home appliance, etc.
The equipment is used for cutting the coils of cold rolled steel, galvanized steel, stainless steel, coated steel and etc. The machine cuts the coil to sheet with different length. It is combined with uncoiler, flatter, loop, NC feeding, flying cutter, discharger, stacker and etc. All the key components are using international brands.
| | | | | | | |
| --- | --- | --- | --- | --- | --- | --- |
| NO. | Model | Thickness (mm) | Coil width (mm) | Coil weight (T) | Speed (m/min) | Power (Kw) |
| 1 | HJL650-20R | 0.2-2.0 | 150-650 | 6 | 0-70 | 80 |
| 2 | HJL850-20R | 0.2-2.0 | 150-850 | 8 | 0-70 | 100 |
| 3 | HJL1350-20R | 0.2-2.0 | 300-1350 | 15 | 0-70 | 150 |
| 4 | HJL1650-20R | 0.2-2.0 | 400-1650 | 20 | 0-70 | 170 |
| 5 | HJL1350-30R | 0.3-3.0 | 300-1350 | 20 | 0-70 | 170 |
| 6 | HJL1650-30R | 0.3-3.0 | 400-1650 | 25 | 0-70 | 190 |